How To Turn Your Blog Into A Profitable Business
You just started a blog, or maybe you've had one for a while now and just can't seem to turn the page and make a profit.
I've been there.
When I started my blog I was working as a Marketing Manager. It seemed like everywhere I turned, a new success story popped up of a 9-to-5'er turned millionaire blogger — and I wanted a piece of the pie. Especially since Marketing was what I did for a living.
It seemed so easy.
I thought i'd create a website, write a few articles and monetize my content.
But it was everything but easy.
The good news is you can definitely make a million dollar salary blogging.
But there's also some challenging news too: It takes a lot of work.
…work and things like:
A lot of Starbucks coffee
Sleepless nights (because you're having too much fun blogging)
Red eyes from content overload (in the best way possible)
Lack of people skills (…but amazing computer skills 😉)
and so on…
Having a profitable blog is not impossible, but it will take dedication and hard work.
I remember losing sleep because I was writing so much. Investing what seemed like a fortune of my own money, not sure if i'd ever see a return.
But I made it, and I know you can too.
Even though I'd like to think I have a superpower, I'm just like you. You don't have to be born with a certain talent to become a successful blogger.
…and I'm going to show you right now.
Know Who You Are Speaking To
Some of the most successful bloggers all have one thing in common: They know their audience.
Yes, it sounds basic.
But you don't know how many people think they know their audience, and don't. And a lot of the time, their blog profits suffer from it.
If you don't know exactly what your audience likes, you won't be able to effectively monetize your blog.
Click To Tweet
Give your readers what they want, and you can start by getting to know them really, really well.
And since you're not going to personally meet everyone that visits your blog, Google Analytics is a great place to grab some basic demographics and psychographics.
Log in to Google Analytics and head over to the left-hand sidebar. Navigate to Audience > Demographics > Overview.
Here you'll be able to see some basic metrics for age and gender.
You can see more detailed information by clicking on Age and Gender in the two boxes you see here.
To see some basic psychographics, head to Audience > Interests > Overview.
This page displays three categories: Affinity Category, In-Market Segment, and Other Category (Other not shown).
Google defines each category like this:
Affinity Category: Lifestyles similar to TV audiences, for example: Technophiles, Sports Fans, and Cooking Enthusiasts
In-Market Segment: Product-purchase interests (i.e., people looking to buy something)
Other Category: Provides the most specific view of your users. For example, Affinity Categories includes Foodies, while Other Categories includes Asian Recipes/Cooking/Thai
When you're analyzing your audience for new post ideas or certain advertising categories (we'll get to that in a second) they might like, Google Analytics really comes in handy.
Once you've gotten to know your audience better, you can start monetizing your blog.
YAY!
Online Ads
Ads take a lot of heat, but they're still one of the mainstays of blog monetization. They're a great way to get started, and if you do them right, can be very profitable.
Less is more with ads. The goal is not to try and bombard your users.
Instead use targeted ads to appeal to your users in a non-pushy way.
The best platform for online ads is Google Adsense, it's used by millions of bloggers around the world.
Here's how to get started:
Head to the AdSense page and click the big "Sign Up Now" button:
You'll either need to sign in with an existing Google account or set up a new one:
On the next screen, enter your website URL and your language.
Then fill out some more information:
Finally, click "Submit my application." And the AdSense team will review your application.
When you get accepted, head to your AdSense dashboard and click on "My ads" in the left-hand sidebar.
Click "New ad unit."
Here you can choose the size of your ad and the ad type.
Click "Save and get code." You'll get a bit of code that you can then copy and paste between the <body> tags of your page.
Here's how that should look (from Google):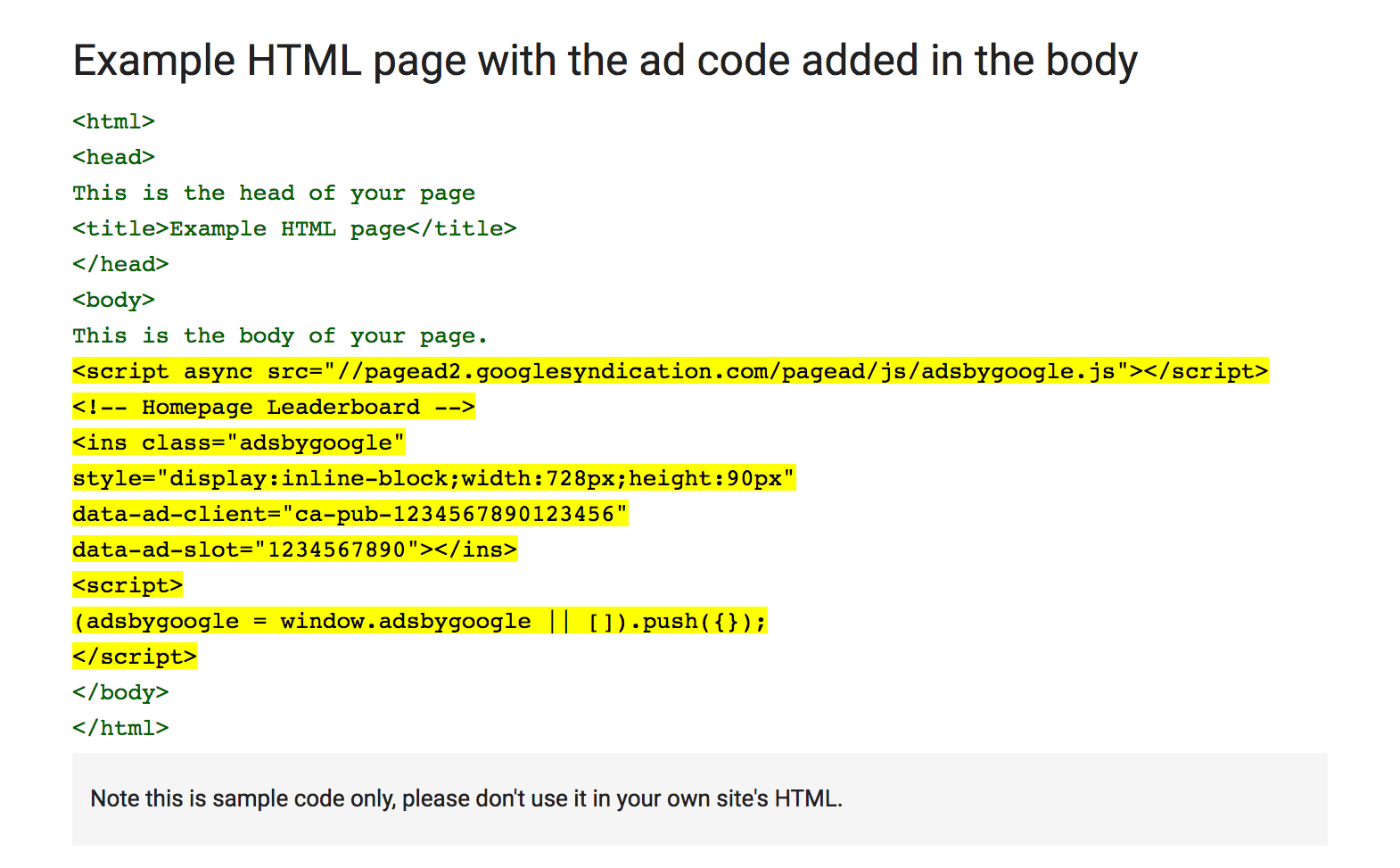 Once you've pasted your code, you're all set up! You can begin to watch your earnings roll in.
Although you can use as many ads as you want, less is more. Remember, don't bombard your readers or they might get annoyed and never come back to your site again.
If you start to see higher bounce rates in Google Analytics, that means you might want to change the position and category of your ads.
Experiment and see what works!
Lead Generation
Do you know what the biggest way to make money blogging is?
Any guesses? Yep, you got it. Lead generation!
Most people think a blog generates most of it's income from sidebar ads and affiliate links. But really, it's lead generation, and it's one of the most effective ways to make money online.
…Ok tell me more…
Well, in the most simplest of forms: Your blog attracts visitors. Those visitors can turn into customers. Those customers give you revenue.
Now let me explain the process. It's equally as simple as the concept.
Instead of getting your visitors to click on an affiliate link or purchase an advertised product, you want to get them to give you their information.
Here's a surefire way to do that:
Create an offer or "magnet" your audience can't refuse. Something you know they need or want, and that's also free. The most common magnets are ebooks or other exclusive types of downloadable content.
Before you allow access to your free amazing out-of-this world offer, ask for their email address. Always ask for their email address.
Once you've collected their email address create a non-annoying sequence of follow-up emails (non-annoying is the key word). Us marketers typically call this an Email drip campaign and most Email platforms offer this with paid subscriptions.
…and BOOM! The people who sign-up for your content are now apart of your lead-generation strategy.
This method works for all kinds of businesses — digital businesses, brick-and-mortar businesses, selling services and so on.
Take Mixergy, for example. Here's there lead generation opt-in.
…and Drift, they have a super easy and simple opt-in. All they ask for is your email address.
Even if you don't have anything to sell right at this moment, building a list of leads is a valuable thing to do.
Affiliates
The most successful bloggers out there have all leveraged the power of affiliates to grow their income online. It's not only an effective strategy but it's super easy to get started.
One of the most popular affiliate programs is Amazon Associates. Unlike Google AdSense, you don't need to be reviewed for approval. You can start right away.
With Amazon Associates, you can get referral links, display ads, and even offer an Amazon-based shopping cart for your readers.
Your visitors can use your referral link and then go buy what they were going to buy anyway — oh, and you make a small commission ;).
Amazon associates is great if you want to advertise products in your niche.
For example, if you have a food blog you can advertise all of the kitchen tools that you use to cook with.
To sign up, go to the Amazon Associates page and click "Join Now for Free."

After you hit the 'Join Now for Free' button, you will be asked to fill out a form about yourself and then be directed to Associates Central where you'll be able to start building your links that will eventually start generating you commissions.
Now, how should you approach placing these affiliate links around your site?
Let's talk affiliate marketing.
A lot of highly respected bloggers believe in what we call 'involved affiliate marketing'. Basically this means that for best results, you only promote products that you have actually used. This is believed to be the best approach to using affiliate links.
Personally, I believe in this approach because it creates trust with your audience, and comes off more genuine.
There are however more choices than just signing up for Amazon associates. Many brands have their own programs which are generally pretty easy to sign-up for — and most of the time offer high commission rates than Amazon would.
Selling Products
Selling products — it seems like a no brainer right? Well, you'd be surprised at how many bloggers forget about actually selling their product(s).
…and no, you don't have to be an ecommerce store to sell a product.
For the sake of being consistent, I am going to use the same example I used in the affiliates bit above — a food blogger. If you are a food blogger, writing a recipe book (or ebook) would be a great product to sell.
Like Pinch of Yum's 'Tasty Food Photography' eBook:
Because your visitors already like your blog, coming out with content that mirrors your blog is a no brainer.
Take Pinch of Yum, their site is half recipes and other half how to grow a food blog. They sell products (like the ebook example above) and place affiliate links of products they use on their site.
Check out a few of their affiliate products in action:
…So just how do you sell a product on your blog?
First, come up with a product you know your audience will love. Try thinking from your audience's point of view and why they love your blog in the first place — don't just come up with a product to sell something.
Create a product that will enhance your users' lives or like the example above, make them better at something they actually want to get better at.
Don't worry if you're stuck choosing a product type at first, it will come to you.
Here are a few to spark some inspiration:
A book
A training course
A video series
Personal coaching
Second, decide how you're going to actually sell it.
If you're selling a digital product, going with a service like Shopify or Woocomerce is your best bet.
However, if you're selling a physical product, like a book (not to be confused with an ebook) it will involve a few more steps. ConvertKit has a great guide on how to sell physical products on your blog.
Last but not least, you have to get your product out there by creating a series of drip emails to promote it from pre-order to finished product.
Think like a marketer.
Summing It Up
Creating a profitable blog is a lot easier than you think.
Using each strategy, whether together or separate (yes, you can use all of these strategies at the same time) can be highly effective. As long as you don't bombard your audience with sales pitches.
You will probably find that over time one strategy works better than another, and that's great.
Stick with what works and you will be on the road to success in no time.
How are you monetizing your blog?